What is Czechoslovak Design?
Interested in finding out more about Czechslovak Design and what makes it so unique? We've got you covered! Here is our short and sweet guide covering all you need to know.
What is Czechoslovak Design?
Czechoslovak design originated (as the name may suggest) in Czechoslovakia in the early decades of the 20th century. The development was gradual and highly reflective of the country's political landscape at the time. The end of WWII brought with it communist totalitarian control which extended into almost every aspect of people's lives. Luckily, design was not seen as a threat to the communist regime, so designers were mostly left to work on their ideas without much state intervention. Inspired by generations of previous artistic movements such as late 19th century Art Nouveau, early 1900s Cubism, interwar Art Deco and Bauhaus, Czechoslovakian design made substantial waves in the world of design at the Brussels Design expo in 1958. Due to the Soviet travel ban, not a single one of the Czechoslovakian designers was able to attend the exhibition. However, that did not stop Czechoslovak design from gaining worldwide recognition and shaping many generations of designers to come. In recent years, the design has been gaining popularity among younger generations not only in the Czech Republic but also worldwide.
Key characteristics of Czech Design:
Czechoslovak design has many distinctive features which give the style a nostalgic yet modern, fresh feel. In that sense, Czechoslovak design can be described as truly timeless. Even though certain pieces are 90 years old, they do not appear dated and would not look out of place in any contemporary interior. Characterized by clean lines, smooth curves, understated elegance and high-quality manufacturing, Czechoslovak design furniture is built to last for generations.
Who are the main Czech Designers?
Here we have attempted to shed some light on to some of the most prominent designers who shaped the movement of Czechoslovak Design:
Pavel Janák (1881- 1956) - was a modernist architect as well as one of the founders of Czech Cubism. He designed several buildings in Prague such as the Škodův Palace and Palace Adria. His writings served as an inspiration to many future designers who would then go onto shape Czech Design.
Josef Gočár (1880 - 1945) - was also a modernist architect who together with Pavel Janák was one of the founding fathers of Czech Cubism. Among his famous buildings in Prague are House of the Black Madonna and Fénix Palace on Wenceslas Square.
Jan Vaněk (1891–1962) - was a Czech designer who began his career as a woodworker. His passion for design stemmed from his desire to improve the standard of living in Czechoslovakia. He believed that all layers of the population were entitled to hygiene, aesthetics and comfort. He is famous for his chair designs which he produced for UP Závody manufacturer. His most ground-breaking idea was "composition furniture" which allowed the consumer to chose from many variable parts and to customize the pieces they were buying.
Jindřich Halabala (1903-1978) - was a Czech modernist designer who had a tremendous influence on interior design. He believed furniture could and should be well-finished, fully functional, mobile and widely affordable. Halabala helped to create a new mass-produced approach to home design. He is most famous among the fans of Czech Design for developing innovative steel tubular furniture. His tubular chairs, reclinable bentwood armchair, writing desks and dining room chairs are highly sought after to this day. Throughout his career, he remained a prolific theoretician in the field of design as well as a writer.
Miroslav Navrátil (1913 - 1999) - is one of the most prominent designers in the history of Czech design. He is famous for his innovative designs of couches and chairs. In 1959 he designed a chair made out of fibreglass (known as Vertex chair) that became a symbol of Czechoslovak design. Fun fact: the Vertex chair became so iconic, that it became part of the interior for Soviet T3 trams - if you have ever visited any of the former Soviet countries and took a ride in one of the old trams, you have probably sat on a Vertex chair.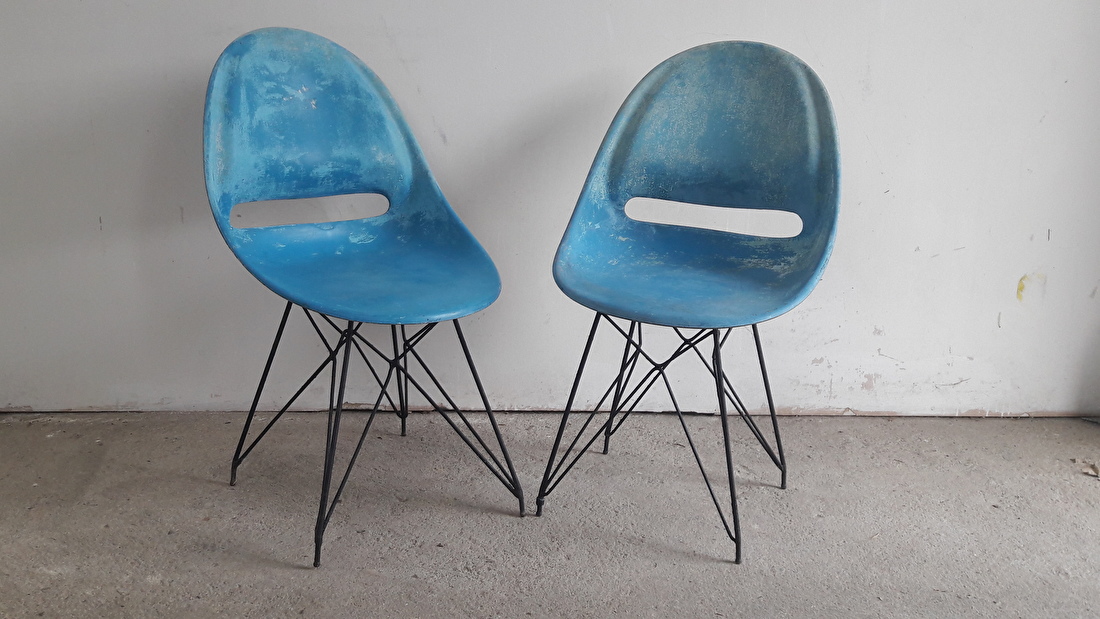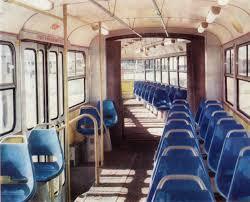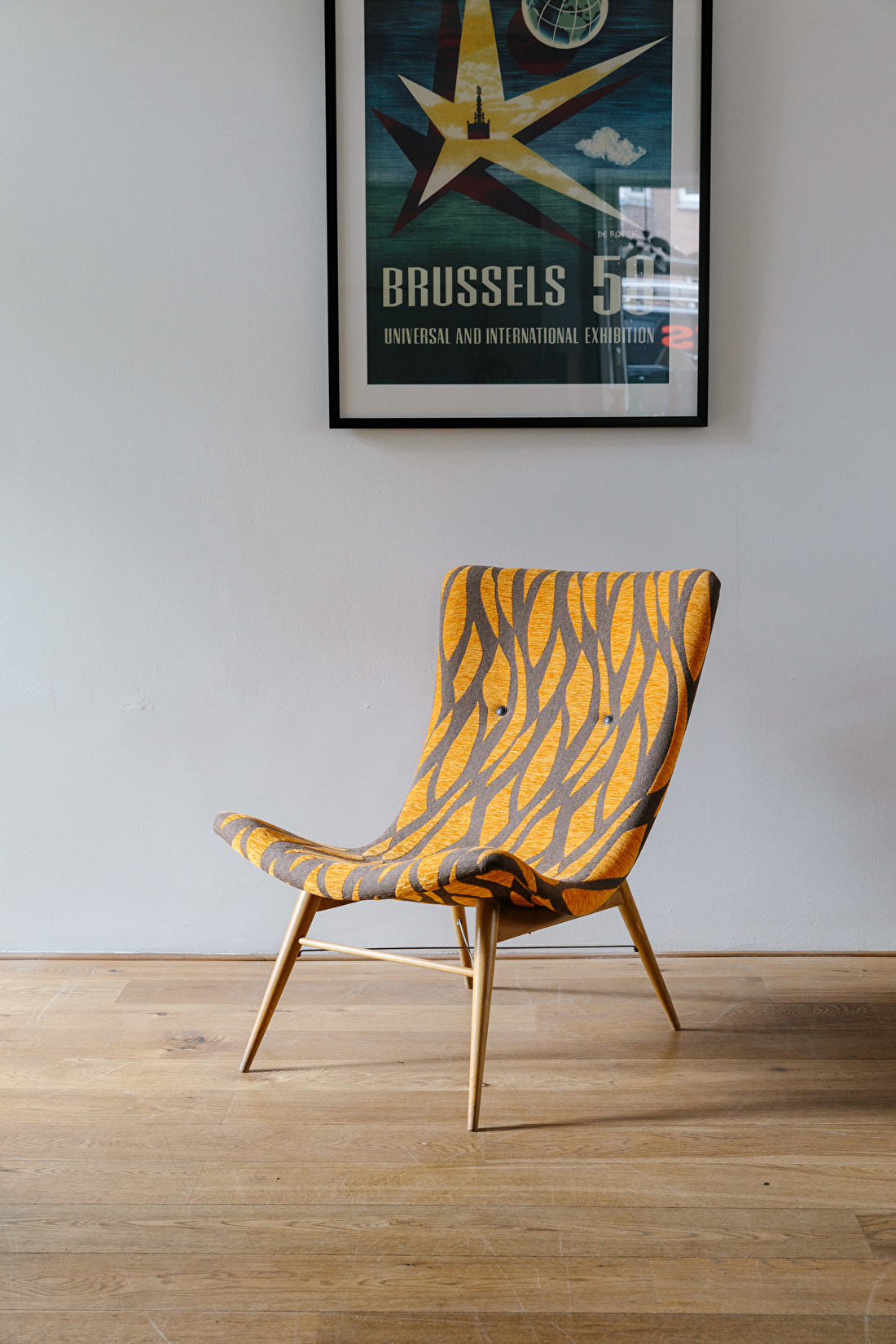 Vertex chair became so iconic, that the design was used inside trams throughout the Soviet Union. Image on the right is the famous TV Chair by Miroslav Navratil for the 1959 Milano design fair.
JIŘÍ JIROUTEK (1912- present) - is another designer to have achieved rock-star status in the world of design. These days, Jiroutek's style has become synonymous with Czechoslovak Design that was presented during the Brussels expo in 1958. Most famous for his sideboards, Jiroutek imbued Czechoslovak Design with softer characteristics such as pastel colours, soft curves and new materials.
An interesting fact about Jiroutek that many people are not aware of, is that he played a crucial role during the early years of IKEA. In 1958 he remodelled one of IKEA's first ever prototypes after finding some issues with the original designs. Impressed by his ideas, Ingvar Kamprad (the founder of Ikea) invited Jiroutek to work in Sweden. After a long bureaucratic battle with the Soviet government where it took the authorities 5 months to approve his trip, Jiroutek finally went to work in Sweden in 1967 where he spent 3 years.
At the age of 91, Jiri Jiroutek is still drawing and designing furniture. In 2019, due to popular demand, he began producing his famous U-450 sideboard series once again. Here at Vintage Designs, we feel incredibly privileged to be able to offer these re-issued models in our store. We were also lucky to receive a best wishes card from the man himself.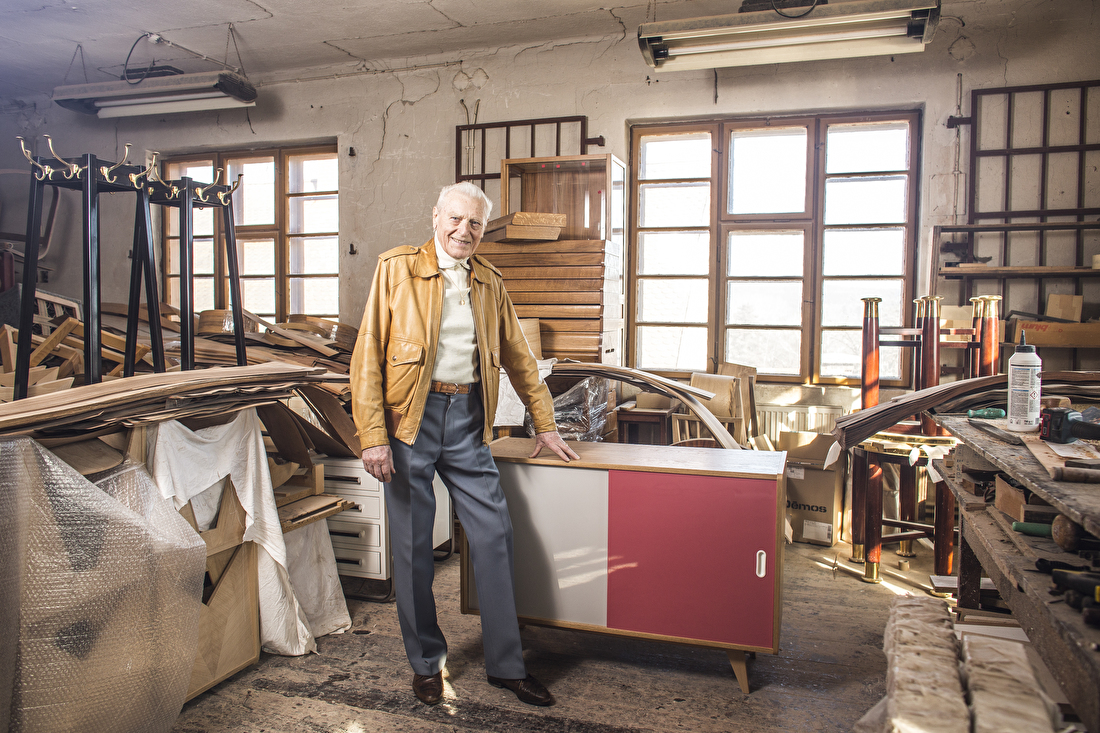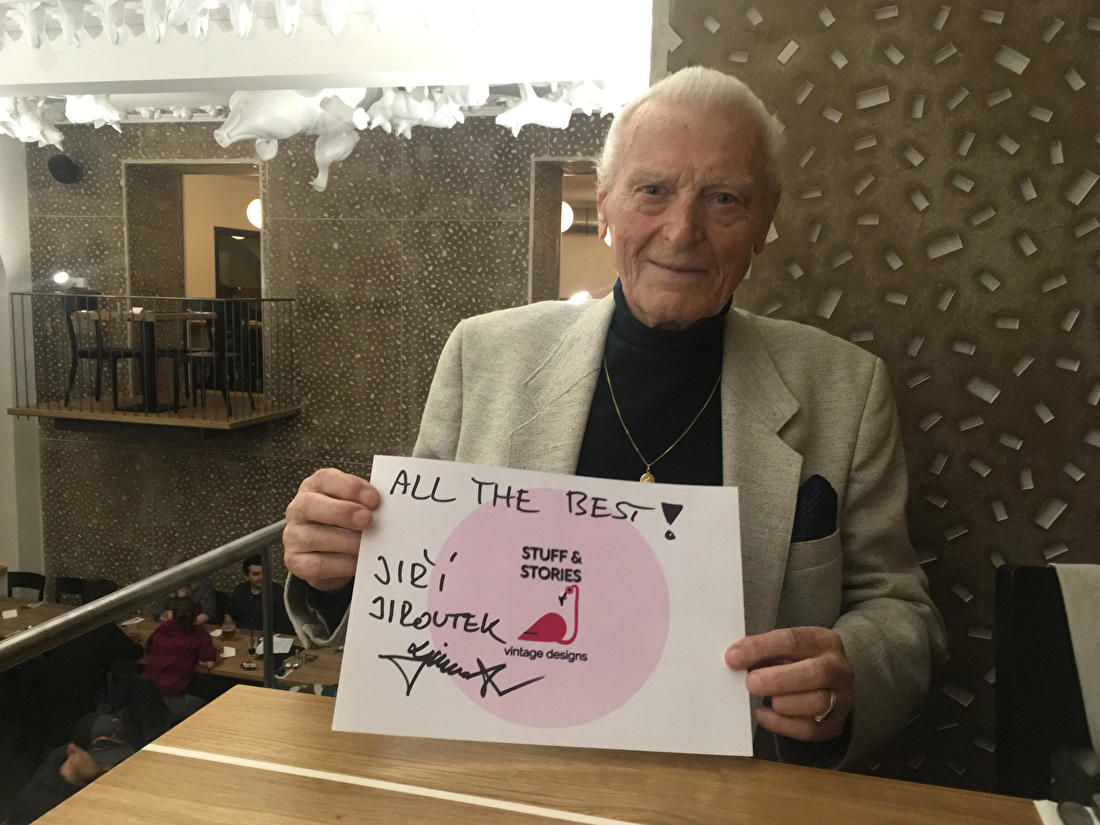 1. (LEFT) JIRI JIROUTEK FAMOUS U-452 SIDEBOARD – NEW EDITION. 2. (RIGHT) JIRI JIROUTEK WISHING ME LUCK.
We always welcome any feedback and questions you may have. Feel free to browse our collection, stop by our store in Amsterdam or simply drop us a line on: bart@vintagedesigns.nl We are always happy to hear from you!